Murray River Organics harvest update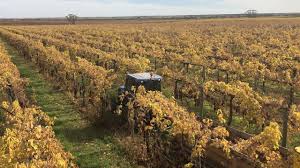 Murray River Organics Group Limited (ASX: MRG) ("MRG" or "the Company") provides the following update to its 2020 harvest.
Harvest Update
The fresh table grape harvest has been completed with significantly improved yields totaling 1,021 tonnes, 25% higher than last year, primarily due to the new farm leadership team, improved nutrition, irrigation, and overall operational management. MRG's primary market in China has experienced lower pricing, as significantly higher volumes were routed to China given COVID-19 related closures in other table grape markets such as Indonesia, Philippines, and South East Asia.
MRG's wine grape harvest at its Nangiloc property successfully achieved a 40% increase in yield when compared to last year, with a total harvest of 1,223 tonnes. Market pricing was strong with the average price per tonne being approximately 25% higher than last season.
MRG's dried vine harvest has been completed yielding 651 tonnes, down on last season by 557 tonnes (excluding Colignan, following MRG's exit from the lease of that property, and entry into an offtake agreement, in late 2019 as previously announced). The yield decrease was mainly due to the severe heat conditions that damaged berries earlier in the growing season in December and January. The difficult cool drying season and the rain events during March and April have impacted the availability of light-colored fruit with most fruit graded as 'brown' across the dried vine industry in Sunraysia. MRG has commissioned additional dehydrating units at its Mourquong facility to enable acceptable moisture levels for this year's rain-affected crop. The total volume will also reduce once the crop is dehydrated to acceptable levels for processing. MRG's new agronomy and irrigation program implemented this season is expected to result in significantly improved yield performance for dried vine fruit next season, assuming normal weather conditions, evidenced by increased cane growth.
Total dried vine fruit from third-party growers is estimated to be 1,553 tonnes, 474 tonnes higher than last season, however lower than expected due to the challenging growing conditions across the Sunraysia region. This increase to last year's intake from third party growers is due to an increase in the number of growers supplying to MRO.
The Australian Dried Vine industry estimates that this year's total crop will be down by approximately 30% on last season due to challenging growing conditions, high water prices and low water allocations, and dried vine growers exiting the industry
Hemp harvest at the Nangiloc farm was successful with approximately 20 tonnes of high-quality seeds harvested. The organic hemp crop residue was further utilized by bailing the remaining hemp stalks, which were sold to a local Australian company that will utilize them as innovative building materials.
The citrus harvest at Nangiloc and Gol Gol are both approximately 35% complete, with the citrus harvest at the Gol Gol farm re-commencing mid-July for late-season varieties. Pricing and yield for citrus have remained strong across all varieties and for the patches harvested as of 30 June 2020.
The Company has also recently secured a 5-year water lease which will meet approximately 95% of current water requirements, at a contracted price of $360 per ML. The new water lease will significantly reduce MRG's risk of exposure to high water prices, with spot water at times having traded at over $900 per ML last year.