As Covid Has Become a Red-State Problem, Too, Have Attitudes Changed?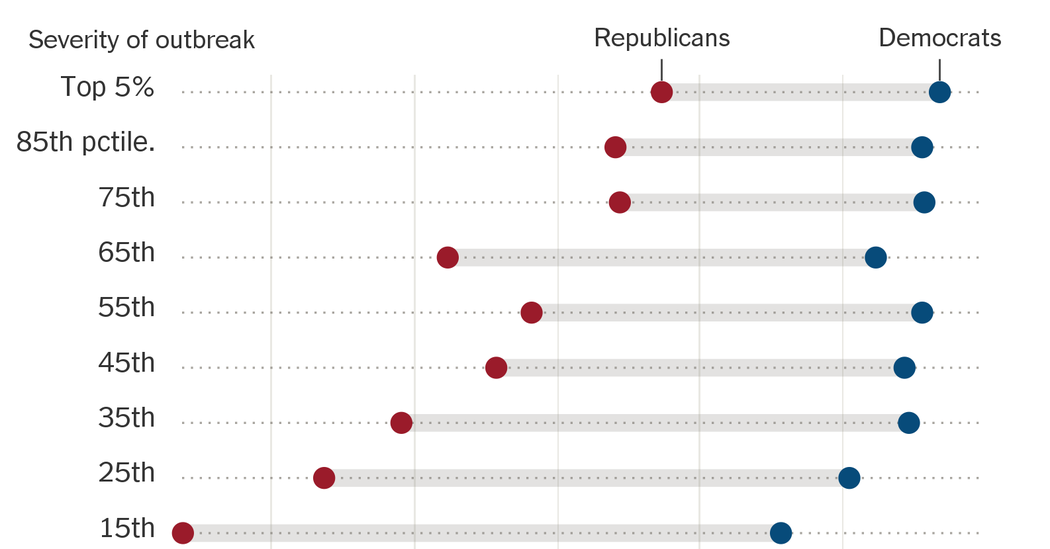 With the coronavirus spreading into red America, policymakers there have been forced to change course.
Some reopening plans have been scuttled; Republican leaders in Washington have broken ranks with President Trump on response policy; and the president himself eventually declared that Americans should wear protective masks.
At the grass-roots level, however, it's not clear if the partisan differences in how people view the pandemic have changed much at all.
There is some evidence of a narrowing on some fronts, but other survey data suggests that Americans disagree about the severity of the crisis as much today as they did two months ago, when people in Democratic counties were taking the brunt of the damage.
The New York Times recently published a detailed map on geographic variations in the use of face coverings, and here also there is a partisan difference. People who identify as Democrats more consistently report they use face coverings, regardless of whether they live in a county with a high case rate, while for Republicans, self-reported mask use goes up to where the crisis is worse.
If the presence of the virus is driving these changes, the infection data shows why.
Through late May, counties that supported President Trump in 2016 accounted for just 26 percent of reported cases and 21 percent of deaths, despite making up 45 percent of the nation's population.
Over the past two months, however, Republican-leaning counties have accounted for 43 percent of new cases and a third of deaths. Of the 100 counties that have seen the most case growth per capita over the past two months, 71 of them backed Mr. Trump in the last election.
Moreover, at the state level, where policy is made, the relationship also shifted. Survey data shows Republican governors are more likely to be taking criticism.
"New cases per capita were higher in redder states than in bluer states in June and July, even after controlling for a wide range of demographic, geographic, and weather variables," said Jed Kolko, an economist and Upshot contributor. "Deaths per capita, too, were higher in redder states than in bluer states in July."
Still, it's less clear how these changes affected perceptions on an individual level.
"Perhaps people who are skeptical about mask-wearing in the abstract might change their minds when the virus is an immediate threat," he said.
Matthew Gentzkow, a Stanford economist who studies partisan behavior, led an early study based on cellphone records that showed "that areas with more Republicans engage in less social distancing, controlling for other factors including public policies, population density, and local COVID cases and deaths."
Two months later, he said, there are still differences, but not as large.
"They're strongly significant in a statistical sense but modest in magnitude," he said. "People do appear to be behaving differently by party, but it's not as dramatic as all Republicans are going to the beach and having parties while Democrats stay home."
It's still not hard to find pandemic naysayers in conservative-leaning media. And several surveys show that on broader questions, a large difference remains. Even as the virus spreads, Republicans and Democrats differ in their concerns about the health impacts.
Polling data from Civiqs shows Democrats are nearly three times as likely to be concerned about a virus outbreak in their area. The Republican response to this question budged only slightly even as virus outbreaks actually multiplied in Republican counties in June and July.
The Coronavirus Outbreak ›
Frequently Asked Questions
Updated July 27, 2020
Should I refinance my mortgage?

It could be a good idea because mortgage rates have never been lower. Refinancing requests have pushed mortgage applications to some of the highest levels since 2008, so be prepared to get in line. But defaults are also up, so if you're thinking about buying a home, be aware that some lenders have tightened their standards.

What is school going to look like in September?

It is unlikely that many schools will return to a normal schedule this fall, requiring the grind of online learning, makeshift child care, and stunted workdays to continue. California's two largest public school districts — Los Angeles and San Diego — said on July 13, that instruction will be remote-only in the fall, citing concerns that surging coronavirus infections in their areas pose too dire a risk for students and teachers. Together, the two districts enroll some 825,000 students. They are the largest in the country so far to abandon plans for even a partial physical return to classrooms when they reopen in August. For other districts, the solution won't be an all-or-nothing approach. Many systems, including the nation's largest, New York City, are devising hybrid plans that involve spending some days in classrooms and other days online. There's no national policy on this yet, so check with your municipal school system regularly to see what is happening in your community.

Is the coronavirus airborne?

The coronavirus can stay aloft for hours in tiny droplets in stagnant air, infecting people as they inhale, mounting scientific evidence suggests. This risk is highest in crowded indoor spaces with poor ventilation and may help explain super-spreading events reported in meatpacking plants, churches, and restaurants. It's unclear how often the virus is spread via these tiny droplets, or aerosols, compared with larger droplets that are expelled when a sick person coughs or sneezes, or transmitted through contact with contaminated surfaces, said Linsey Marr, an aerosol expert at Virginia Tech. Aerosols are released even when a person without symptoms exhales, talks, or sings, according to Dr. Marr and more than 200 other experts, who have outlined the evidence in an open letter to the World Health Organization.

What are the symptoms of coronavirus?

Does the asymptomatic transmission of Covid-19 happen?

So far, the evidence seems to show it does. A widely cited paper published in April suggests that people are most infectious about two days before the onset of coronavirus symptoms and estimated that 44 percent of new infections were a result of transmission from people who were not yet showing symptoms. Recently, a top expert at the World Health Organization stated that transmission of the coronavirus by people who did not have symptoms was "very rare," but she later walked back that statement.
A recent Pew survey found that Republicans and Democrats agreed on one aspect of the pandemic — that it has a severe impact on the economy. But when asked whether the virus posed a major threat to their personal health or the health of their community, Democrats were twice as likely to say yes.
The authors concluded that the partisan divide overall was about the same as it was in May before cases and deaths surged into red counties.
The extent to which firsthand experience drives these ideological differences among Americans, and how much the differences in behavior contribute to the virus's spread, is hard to disentangle with much precision.
But it's more clear that shifts at the policy level have not come out of anywhere. They've aligned with the changing geography of the pandemic.